The Home Page of the
KwaZulu Natal Bridge Union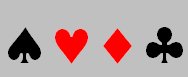 This is the web site of the KwaZulu-Natal Bridge Union. Here you will find news about forthcoming events,
affiliated clubs, master-points and all matters relating to Duplicate Bridge in the Province of Kwazulu-Natal.
The South Coast Bridge Challenge will be held on 3rd & 4th of October 2020
See here for details
For Final Entries (70 pairs) see here
The SABF Interclub will be held on 6 to 8 November 2020
Sessions and time will be decided on the number of teams entered.

Please contact Jenny Ten Bokum if you wish to enter our BBO tournaments (tenbok@telkomsa.net)
She will send you information regarding the BBO tournament
KZNBU PAIRS TOURNAMENTS Monday 28 September 2020 SECTION A
KZNBU PAIRS TOURNAMENTS Monday 28 September 2020 SECTION B
Midlands Pairs Tournament Tuesday 29 September 2020
Midlands Pairs Tournament Wednesday 30 September 2020
KZNBU PAIRS TOURNAMENT Thursday 1 October 2020 SECTION A
KZNBU PAIRS TOURNAMENT Thursday 1 October 2020 SECTION B
Midlands Pairs Tournament Friday 2 October 2020
The website was last updated Friday 2 October 2020